This year I did something that I have never done before.
It is 12 years since we took delivery of our first three female alpacas and we have done a lot of things for the first time over the following years, in fact every year we do many things for the first time such is the huge and continual learning curve when it comes to living with alpacas.
We started entering halter shows as soon as we could. The Bath and West Show in 2008 was our first outing, back in the days when it was housed in a huge building and attracted 400 plus alpacas. I remember Lily (my favourite alpaca in the whole world) coming second in a class of twelve junior black females. Yes, twelve, back in 2008.
We have shown alpacas at halter shows every year since, I love it. I love the competition, I love the friendly rivalry, and of course I love winning shiny stuff. But if we don't win, (and that happens a lot), I try to figure out why we didn't win and try to put it right. Listening to the judges, looking at the alpacas placed higher up, talking to breeders, studying pedigrees, all help to build up a plan for the next generation, or even the generation after that.
Sometimes I am very grumpy about it all and when I am grumpy everyone knows about it as I am unable to hide my emotions, mentally very childlike, even now. I look grumpy all the time anyway apparently; I have one of those faces, even when I am happy I look grumpy.
So what I have I done this year that has not been done before? Well several things as I have already mentioned but one of those things was to enter a fleece into a fleece show. As it turned out, three fleece shows. Three fleece shows, one fleece.
On the 26th of June I took a bagged up fleece to the post office and off it went to The Eastern Regional Group Fleece Show. A big show as it turned out. That was the end of my participation in a fleece being entered and judged in three consecutive fleece shows. It wasn't an exciting start. Once it had gone there was nothing to do but wait and waiting is pretty boring.
The other thing I don't like about fleece shows (oops did I say I didn't like fleece shows?) is the way the results are announced. In these days where no-one is patient enough to wait for anything anymore, even the contents of the Queens speech are announced days before she actually makes it, the leaking of information is irritatingly everywhere. And so this seems to be the case with fleece shows. People are congratulated on Facebook in a sort of drip feed of the results. Why is this the case. Why aren't the results announced all together? Why? I found this slightly annoying.
Anyway, our one fleece, when we did find out the results did rather well. In a class of twelve brown fleeces aged between 24 and 48 months ours came second. Looking into this result in more detail was very interesting. Our fleece was from CME Rococo who was the Champion Brown male at this year's National halter show. His fleece was beaten by the fleece from the female who won Champion Brown female at the National Show. That shows a remarkable consistency in judging which must be applauded. I know there were differences in each competition but I was happy to come second to such a high quality female. So, first experience of a fleece show and very satisfied with the result.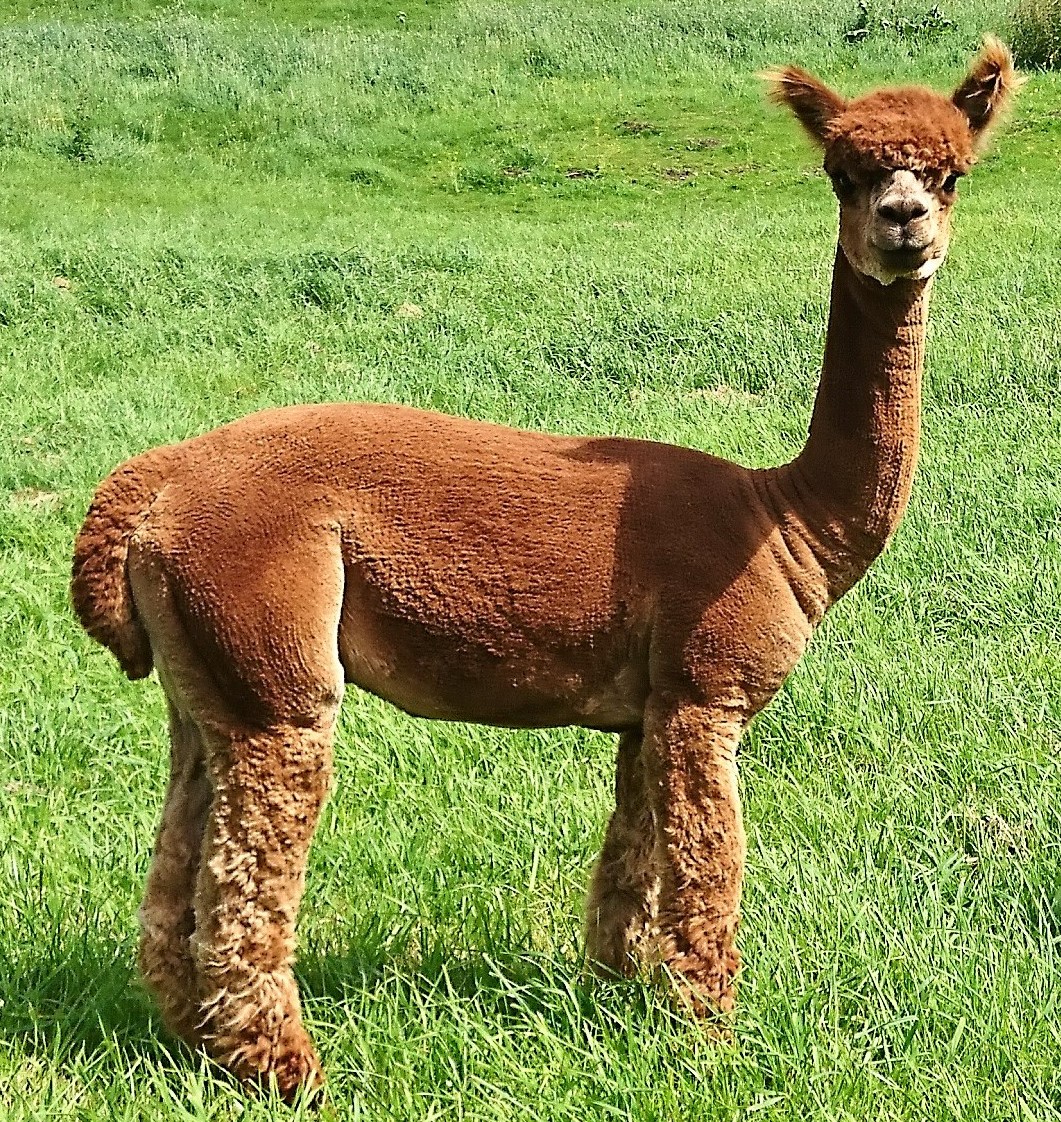 Rococo's fleece was then sent across the country to the North Devon Fleece Show. Now this is a much smaller show but still an established fleece show. There was quite a wait in between these shows and I must confess I almost forgot about having entered. However, as the judging day approached (the halter show had been cancelled due to wet weather but the fleeces show went ahead as planned) a small amount of anticipation crept into my mind. This time I was the subject of some information leakage and eventually I was told that Rococo had done rather well. In fact he couldn't have done any better; he had won the Supreme Champion award.
Now, I remember the time that this information came through and I remember bouncing around with excitement in the kitchen, it was a genuinely brilliant moment. It is the first time we have taken a Supreme Champion award at any show and that was special. It still makes me smile thinking about it. Fantastic.
His fleece then went off to the SWAG annual Fleece show and there was a long wait in between.
This fleece show was two days ago and Sue and I went along. As it was also a craft fair, we took some garments made from our fibre and set up our stall. The fleeces had already been judged and as far as I knew there had been no leaking of results, so it was with some trepidation that I wandered up to the very impressive display to see where Rococo had come.
He was on the front row and in the middle so that looked promising. First in his class, best brown and Judges Choice rosettes adorned his box. Excellent, very happy with that. His fleece was next to the Supreme Champion fleece, Angersleigh Tickety Boo, a lovely looking white fleece. Even more pleasing was finding out that they had both scored the same points and it was the one point difference in the fineness score that had given the top award to Tickety Boo.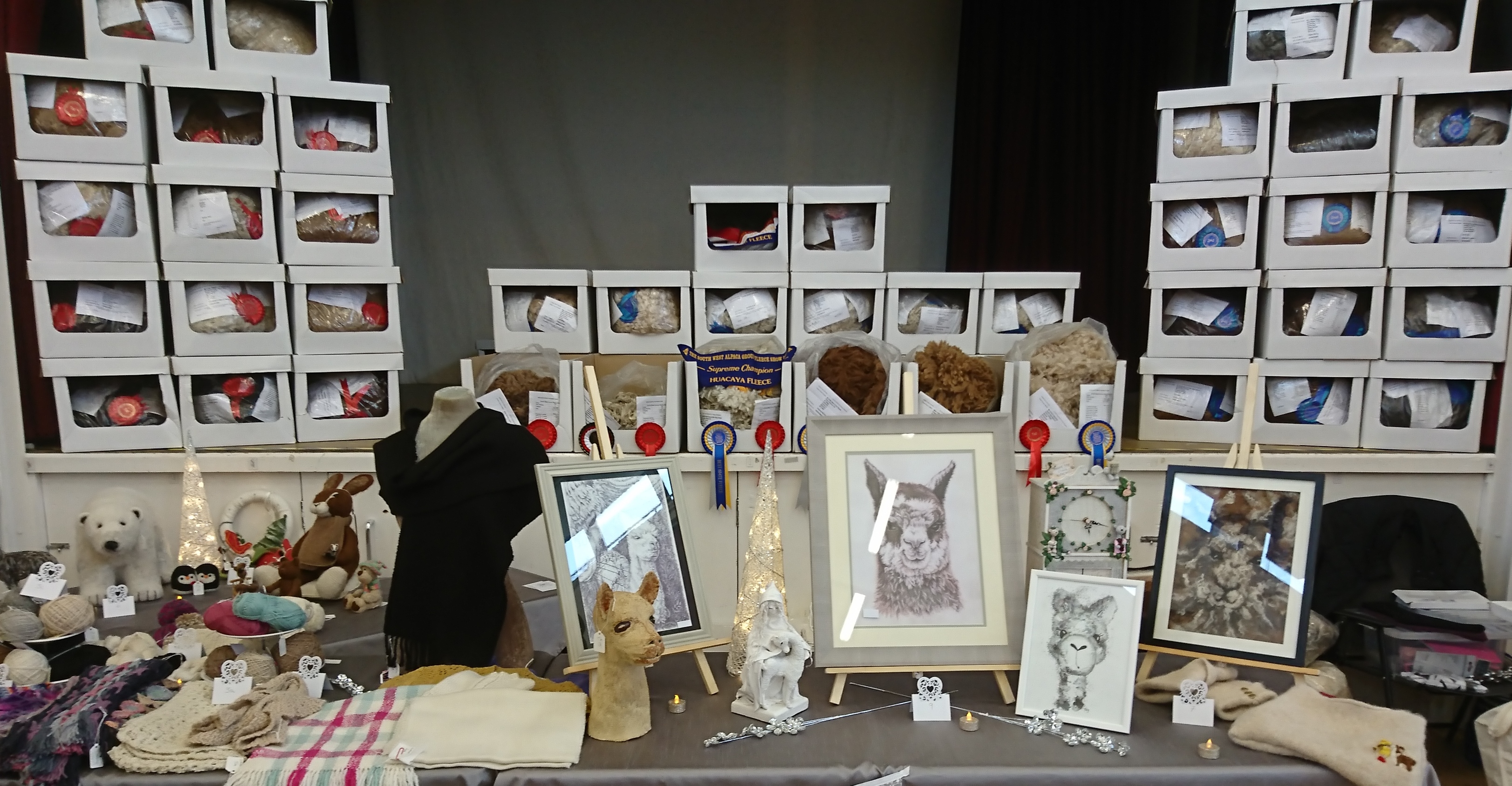 So, three fleece shows, three great results and a big pat on the back to Rococo.
Has it made me reconsider my approach to fleece shows? Has it spurred me on to enter more fleece shows next year?
Well, the short answer is, no. I still don't quite get them. I understand that some people enter fleece shows and not halter shows for whatever reason and that some enter both. I think that's all great. I wish you all the best of luck. But for me, I'll stick to going into the show ring, with my fleeces still very much attached to their owners.
For me, you just can't beat that for excitement.